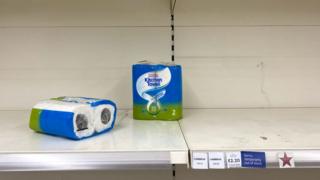 Prime Minister Boris Johnson has urged shoppers to be sensible when buying food. His comments come after shoppers have been emptying shelves around the UK following the coronavirus outbreak.
So can panic-buying be controlled and what are supermarkets doing to restock shelves?
How many people are panic-buying?
Social media is full of reports of empty shop shelves, with similar scenes in countries such as Australia and the US.
At the moment, we don't have any official data on the scale of stockpiling in the UK. However, we do know some supermarkets are restricting customers from bulk-buying certain products – due to high demand.
Across different supermarkets, this includes:
anti-bacterial products including hand sanitiser
toilet roll and tissues
long-life milk
pasta
tinned vegetables
rice
soap
cleaning products
pain relief
What else are supermarkets doing?
Tesco, the Co-op and Waitrose would not comment on supply chain plans, although they say that, like other shops, they are restricting people from buying more than a certain number of particular products.
Sainsbury's acknowledges there are currently some gaps on shelves, but says it has ordered more stock of essential items from its suppliers and, "other than a small number of exceptions", they believe they will have regular stock back on the shelves soon.
A spokesperson said the supermarket had also increased staffing at its warehouses and distribution centres, the number of lorries on the road delivering products to stores, and the number of its online delivery drivers so it can add in more online slots.
It says it will also prioritise vulnerable and elderly people for online deliveries and limit people to only buying three of any single item.
Morrisons said it would increase the number of delivery slots by recruiting 2,500 extra pickers and drivers. It's also introducing a range of food parcels for order.
Marks and Spencer was not able to comment, and Lidl, Aldi, Asda and Waitrose have not yet responded.
Iceland and other shops are introducing an hour at the beginning of the day during which only elderly people or those with disabilities can shop.
The British Retail Consortium, which represents supermarkets, says they have had "well-rehearsed" contingency plans in place for years – since the Sars outbreak in 2003.
"Supply chains are robust and we are getting food in," a spokesperson said.
What is the government saying?
The government has said there is no reason for anybody to stockpile.
Speaking on Tuesday, Mr Johnson said: "We are absolutely confident our supply chains are working, and will work, and we will get farm to fork food supplies.
"Therefore people should have no reason to stockpile or panic buy."
Public Health England has said that people should plan ahead and think what they will need if they have to self-isolate for at least seven days.
The advice is that they should ask friends or family to drop off anything they need or order supplies online. Any deliveries should be left outside their homes.
However, the government's powers to deal with this situation are so far untested, according to Paul Dobson, from the University of East Anglia.
But he said he expected the government would speak to supermarkets to secure a series of voluntary agreements on issues around supply, and limiting panic buying.
Supermarket delivery hours were extended earlier in March to help shops remain stocked.
The Competition and Markets Authority watchdog has warned retailers not to "exploit" fears about coronavirus by dramatically increasing the price of protective goods like hand gels and face masks.
The government could also relax competition rules to enable greater co-ordination between supermarkets.
What could the next steps be?
Retail analyst Bruno Monteyne said a tipping point could come if or when the virus "really breaks through" and the number of people off work increases well above the number of people who are sick.
"When kids have to stay home, many parents will have one person staying at home," he said. "Equally, if somebody is ill, a family member will likely stay with him or her".
"When you have labour absences, then you reduce the food-retail capacity. Everything is ultimately linked to staff members: numbers of drivers to drive the trucks to the stores, number of shelf fillers to fill the shelf, number of check out people to do check outs. So a 10% absence rate, means a 10% capacity reduction."
If the virus outbreak gets to the stage where "capacity is materially reduced to maintain food supply", retailers would enter into a "feed the nation" phase by reducing ranges.
"But none of that will go smoothly. Mistakes will be made, trucks will be late, some stores will run empty, and that is when there is a risk of a real panic breaking out," he said.
"That is the moment that the army would step in and be accompanying the trucks and support food distribution and stop food riots from happening," Mr Monteyne added.
emergency plumbers Sittingbourne